List of Approved Spitzer Programs
This is the complete list of all observing programs for the Spitzer Space Telescope. It includes the primary investigator, PID number, type, science category, program name and program title.
Abstracts
These are the complete lists of approved cryogenic abstracts. For warm mission programs, please see Warm Approved Programs.
Cryogenic extragalactic abstracts (PDF, 1.18 MB)
Cryogenic galactic abstracts (PDF, 1.28 MB)
Cryogenic solar system abstracts (PDF, 290 KB)
Warm and Beyond Mission abstracts (PDF, 1 MB)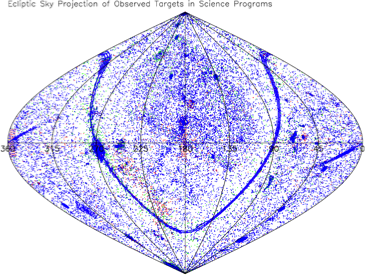 Graphical representations of all observations done by Spitzer. Red=MIPS, green=IRS, blue=IRAC
Click for a larger version

Cycle Numbering
Please note that DDT and calibration observations do not follow this numbering scheme

Cycle
Program Identifier Number (PID)
Cryogenic
0
1-1199
1
2000-4000
2
20000s
3
30000s
4
40000s
5
50000s
Warm
6
60000s
7
70000s
8
80000s
9
90000s
10
10000s
11
11000s
12
12000s
13
13000s
14
14000s